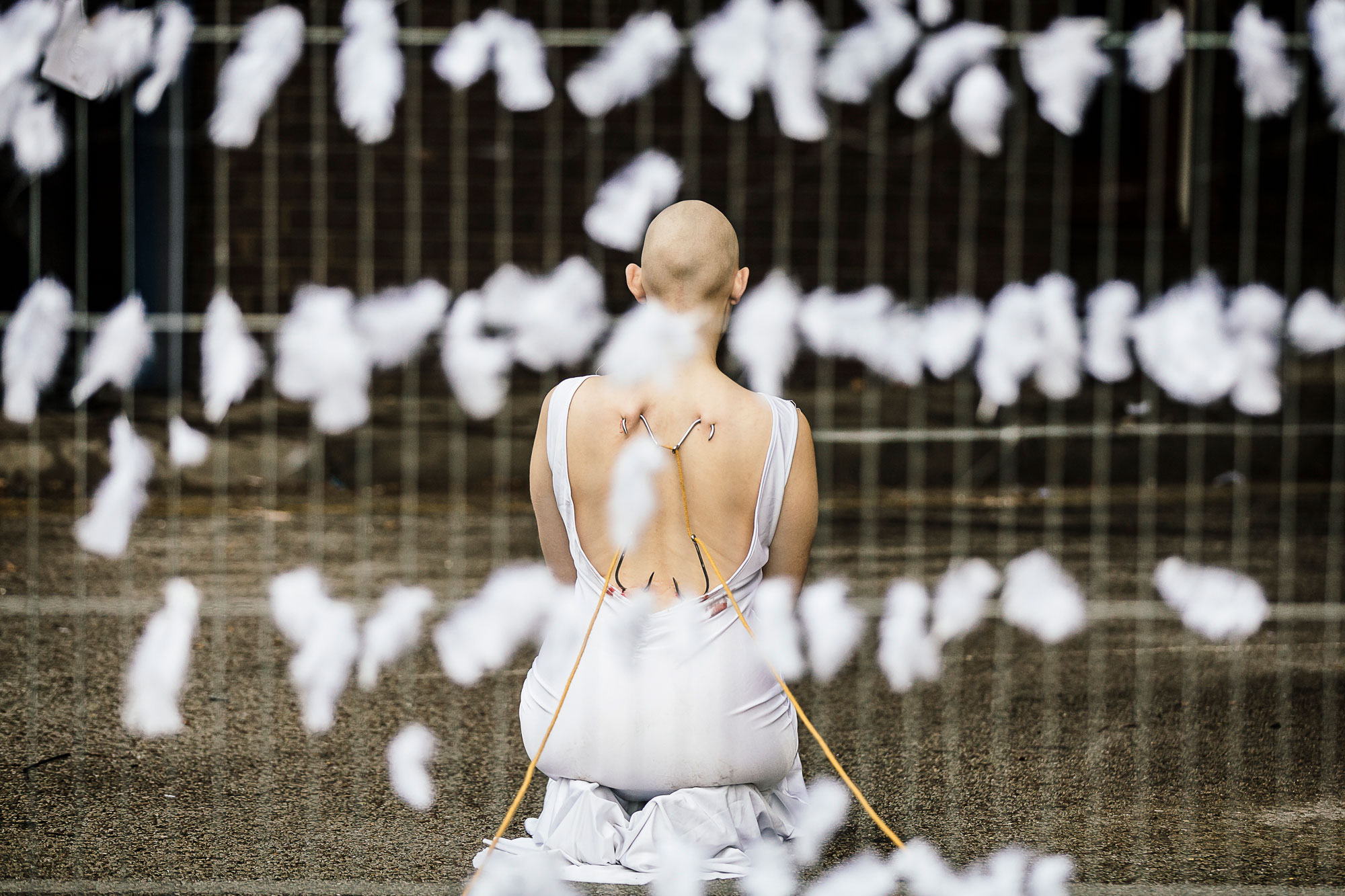 ---
Amy Kingsmill (1991)
BA Hons Fine Art, Central Saint Martins 2013
Amy Kingsmill is a radical, queer performance artist, her work focuses on transformation & transcendence, combining beauty with arrestingly visceral actions. She produces minimalist, pain-based ritualistic performance exploring inherently feminist themes.
'Welcome to the new esoteric theatre.
Its not minimalist and its not maximal. Meaning a costume drama without sets. The iconography - yes archetypal - is pumped to cartoon colours and graphics. But the speed, the intention, is pure luxury. Amy Kingsmill straddles cabaret/trance/spectacle and infuses the space with exuberance.'- Ron Athey
Since graduating from Central Saint Martin's (2013) she has performed internationally including Karachi Biennale 2017, Tempting Failure International Biennale of Performance Art & Noise 2018 and Spill Festival of Performance 2014, LAST Projects Los Angles 2019, Cite Des Artes, Paris 2019, Franko B's Untouchables 2015, Rhiannon Aarons in Los Angles 2019 and performed collaboratively with Sheree Rose 2015 in London and Los Angeles.
Previous Performances/ Exhibitions
Speaker on Witch trials pannel at Standon Calling [July 2022]
Light Source Embroidery performance Installation at The British Library. [June 2022] Light Source Night School monthly talk series,The Horse Hospital + Friends House, London [June 2021-June 2022]

Fairytale, The Trojan Donkey, digital exhibition, Karachi, Pakistan [April 2020]

Extreme Performance Association, talk at Live Art Development Agency, London [January 2020]

Corpus Sonos, With Justin Snyder at LAST Projects, Los Angeles [September 2019] Talk at Long Beach State University, Los Angeles [September 2019]

Growth, performance with Rhiannon Aaron, Los Angeles [September 2019]

Ascension of the Sun, Torture Garden, London [May 2019]

Fairytale, Cite Des Artes, Paris [May 2019]


Bleeding Skirt performance, Tempting Failure; Biennale of International Performance Art and Noise, London [July 2018]


Fairytale installation and performance at Its Clubhouse, Mayfair Art Weekend [June 2018]
 Birth performance as part of Fluid0 with Shu Lea Cheang ICA, London [May 2018]


Fairytale, performed at Fusion, London [April 2018]


Bloom, presented at One Can Not Be Too Careful, Russia [April 2018] Bloom, presented at One Can Not Be Too Careful, Berlin, Germany [April 2018]


Bloom, performed at The Labyrinth at Liquid Rooms, Venice, Italy [March 2018]


ArtHaus Interactions, Bulgari Hotel, Ulwatu, Bali [Dec 2017]

Fairytale, Performed at Alliance Francaise, Karachi Pakistan, Karachi Biennale [October 2017]
Bloom, Performed at Blood, Science Gallery, Copeland Gallery, [October 2017] Methodologies in Body Art, held with Sheree Rose and Rhiannon Aarons at DIY 2017, Live Art Development Agency [July 2017]

Fairytale performed at Cultivate, London [June 2017]

Queen of Carnage, collaboration with Sobriety Twist, performed at The Space, London [April 2017]
Resistance, at The Black and White building, London [November 2016] Sanctuary Ring performed with Martin O'Brein and Sheree Rose at Spill Festival, Ipswitch [October 2016]

Bloom, Performed at Debased, Cultivate London [September 2016]


Philosophy in the Bedroom, with Sheree Rose, Martin O'Brien and Rhiannon Aarons Los Angeles [September 2016]
 Blood Ballet, Performed at Antichrist, [London June 2016]

Hogstess (performance), The Matriarch, The Madonna, The Prisoner, and His Kissed (documentation), Erotic Art Photography , PhotoBastei Zurich [June 2016]

Superclub Residency Amsterdam [March 2016]


Fair Lady May Performed at Reveal, Cultivate, London, [Jan 2016]


Tender Blood with Sheree Rose at Resistance Gallery, London [Nov 2015]


Adam Electric's Tomb at Spill Festival of Performance, National Theatre Studio, London [Nov 2015] Seabirth, Performed at Torture Garden [September 2015]

I always wanted to be Bettie Paige, Arts Car boot Fair, [June 2015]


Discarded, Performed at Play at Cultivate Vyner St [June 2015]


Trance Dance, Performed at Untouchables tribute to Ron Athey [March 2015]


Plastic Life, Performed at Torture Garden [February 2015]


Supper Club residency, Amsterdam [Dec 2014]


Production with Victoria Gugenhiem; Modern Panic, London [Nov 2014]


Journey; Spill Festival of Performance, Ipswich [October 2014]


Corpus Sonos and Projected Prognosis; Panopoly Lab, New York [August 2014]


Projected Prognosis; Performed at Discharge Vs Untouchable [June 2014]


Hogtess; Performed at Torture Garden, London [April 2014]


Hogstess and Ritual Hook Suspension; Wasteland, Amsterdam [April 2014]


Discarded; Hysteria, London [April 2014]

For her honor; Tareq De Montfort The Arab Unbound private view [Feb 2014]
 Resistance; Franko B's Untouchables [Jan 2014]


His Kisses; Martin O'Brien's Discharge [Jan 2014]


Discarded; Modern Panic V [Nov, 2013]

Peep Anatomy with Angela Edwards, Edinburgh Fringe [Aug,2013]
CUNTemporary, Hard Camp [Aug 2013]


PervArts; Performing Porn symposium, Performance Space [Aug 2013]
 Corpus Sonos with Justin Snyder; Mori and Stien, London [July 2013] 

Central St Martins Graduation exhibition [2013]

His Kisses; Franko B's Untouchables [2013]

Untitled, Resistance Gallery, This is so Wrong [2012]
---